Ship Recycling Plan
Recycling of safe and environmentally friendly vessels is now essential. As a pioneer in the planning and investigation of ship-recycling facilities, we participated in the development of the Ship Recycling Convention and the Ship Recycling Facility Improvement Project in India.And also we have provided a variety of services, including support for the improvement of recycling yards, the preparation of lists of hazardous substances, and the selection of appropriate yards.
The International Maritime Organization (IMO) has established a "Hong Kong International Convention for the Safe and Environmentally Sound Recycling of Ships, 2009 (Ship Recycling Convention)" *, which requires ship recycling facilities to operate properly and with equipment to minimize environmental pollution, damage to workers' health, and accidents. Currently, ships are recycled mainly in India, Bangladesh, Pakistan and Turkey in Southwest Asia, but safe and environmentally friendly recycling is essential for ships on international voyages, even before the Convention comes into effect.
We have participated in the following projects: support for the formulation of the Ship Recycling Convention, a project to build a ship recycling system for developed countries (Muroran Pilot Project (2009)) by the Ministry of Land, Infrastructure, Transport and Tourism, and a project to improve ship recycling yards in India. As a pioneer in the planning and research of the ship recycling field, we provide a variety of services, including brokerage services and the provision of appropriate recycling yard information, to customers who plan to support the preparation of ship recycling facility plans and ship recycling.
*Not issued as of the end of June 2019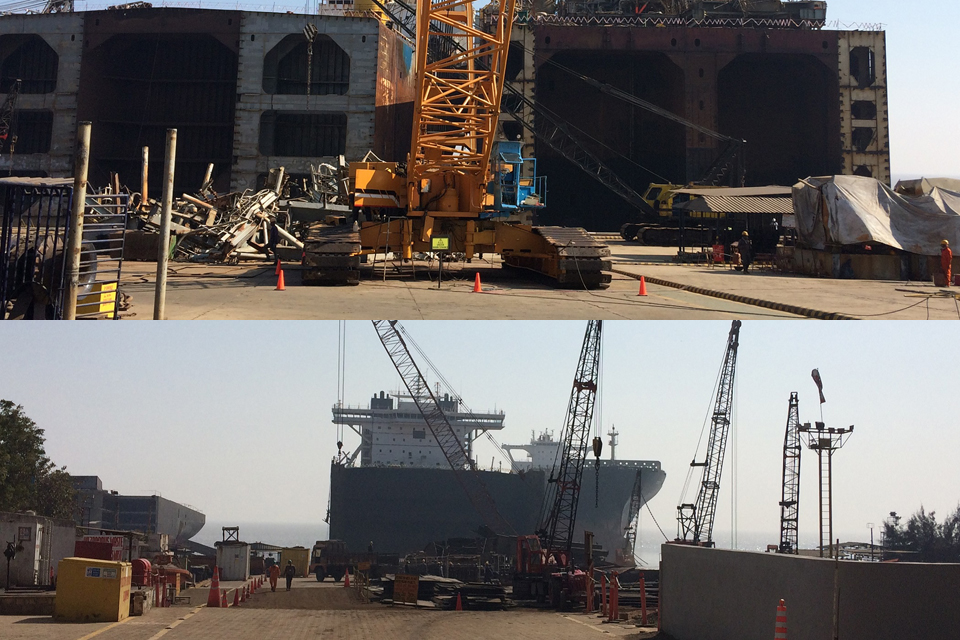 Improved ship recycling facility in Allan district, India
Design and improvement of ship recycling facilities
Environmental measures and occupational safety and health measures are important in planning new or improved ship recycling facilities. Ship recycling facilities require the safe identification, removal, storage, transfer and treatment of hazardous substances in the process of shipping recycling to minimize adverse effects on workers and the environment. In addition, in order to ensure the safety of workers, documentation of work procedures and compliance with procedures are required.
The requirements for a ship recycling facility are to conduct a field survey to analyze the gap between the requirements of the ship recycling convention and applicable environmental regulations, and to establish a ship recycling facility or develop an improvement plan. We also conduct surveys of individual ship recycling facilities as requested by customers.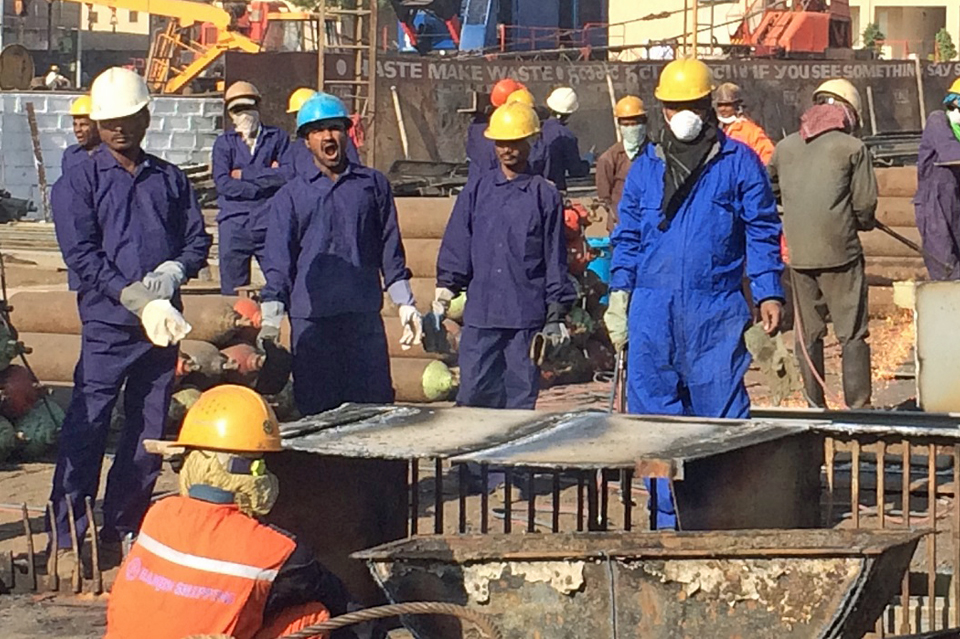 Protection of workers in ship recycling operations
Environmental measures required for ship recycling facilities
1. Measures to prevent the discharge of hazardous substances and other alternative structures to prevent water and soil pollution
Drainage compartment of the facility
Location of leakage prevention equipment
Environmental protection measures implemented during fuel oil transfer and extraction
Location of oil and bilge other than above
Fuel oil storage area
2. Measures to prevent the outflow of pollutants from facilities due to storms
Prevention of contamination by Rainwater, water receiving and transferring system
Prevention of dumping of floating garbage into the sea
Labor safety measures required for ship recycling facilities: Safe ship acceptance, mooring and dismantling
1. Safe entry and safe fire work
Measures to prohibit the entry of persons who are not workers into the area: Oxygen and gas concentration control.
Appropriate illumination of work areas and compartments
Appropriate entry and exit settings in enclosed compartments
Ensuring communication methods with workers when entering the safety compartment
2. Equipment for workers
Washing facilities, showers, dining and recreation compartments, toilets and changing rooms
Separate special dressing rooms and sanitary facilities for workers handling asbestos
3. Safety and training of workers
Preparation of training programs and implementation of training
Securing Personal Protective Equipment for Workers
Brokerage services for recycling ships
The Ship Recycling Convention requires shipowners to prepare and maintain a list of hazardous substances, and to cooperate in the preparation of the Ship Recycling Plan. As well as implementing safe and environmentally friendly ship recycling, it is also important for shipping companies to reduce various risks associated with selling ships as part of their environmental strategy.
From the beginning to the end of the ship recycling study, we support the selection of recycling facilities, yard surveys to satisfy environmental requirements for recycling facilities, technical support, and the conclusion of ship sales contracts. In addition, during recycling, we carry out monitoring by the environmental requirement checklist and implement SRP check and the report of waste management, and also, support the securing of shipowner profit in the recycling execution.
Business Inquiries
Global Business Group
+81 44-548-9140
Inquiries