Diving Business
Although it is considered difficult to be aware of the existing condition of ship's hull, flat bottom, rudder, propeller, and other submerged area unless in a dry dock, JAPAN MARINE SCIENCE INC. provides underwater inspections afloat with underwater photography and shooting video carried out by the expert of diving that make it possible to assess accurately. In addition to underwater inspections, we also provide various diving services for ship's energy saving such as underwater cleaning, propeller polishing, and repair / sealing works.
JAPAN MARINE SCIENCE INC. responds to the requests of customers by conducting various underwater works on various types of ships, such as underwater inspection, measurement on wear down of stern tube and clearance of the rudder pintles, underwater cleaning, propeller polishing, underwater welding and cutting for hull damage, sealing work of the overboard pipes, trimming of propeller blades, replacement of the sensor of the ship's bottom, removal of tangled fishing nets / ropes, and so on.
In addition to ship-related works, we also provide various types of marine civil engineering works, marine port works, and related works which includes marine structure maintenance, anticorrosion works, installation and removal of navigation light buoys, towing magnetic exploration, and search lost anchors and chains by simple magnetic exploration.
We will offer the best proposal and high-quality service according to the request of customers.
Not limited to ships, we provide underwater works in connection with offshore civil engineering and other diversified offshore related works*.
* We have divers certified as civil engineering management expert and harbor diving expert.
Underwater Inspection
We is one of the leading companies in Japan as recognized external specialist for In-water Survey of ships approved by the international classification societies (LR, ABS, NK, DNV-GL, and BV). We conduct the underwater inspection including Underwater Inspection in lieu of drydocking on ship's submerged area i.e. vertical hull, flat bottom, sea chest, bilge keel, rudder, propeller, and niche areas, with the measurement on wear down of tail shaft and clearance of the rudder bearings as requested by class surveyor. Experienced divers who are familiar with the hull structure of various types of ships use underwater camera and CCTV to find out damages or deficiencies quickly and accurately, and to find out accurately the condition of ship below the water line.

Other underwater inspections requested by customers are:
- Preliminary inspection prior to drydocking.
- Investigations of ship's paint conditions, including film thickness measurement.
- Pre-purchase inspection for ship's sale.
- Investigation on ship's fouling condition.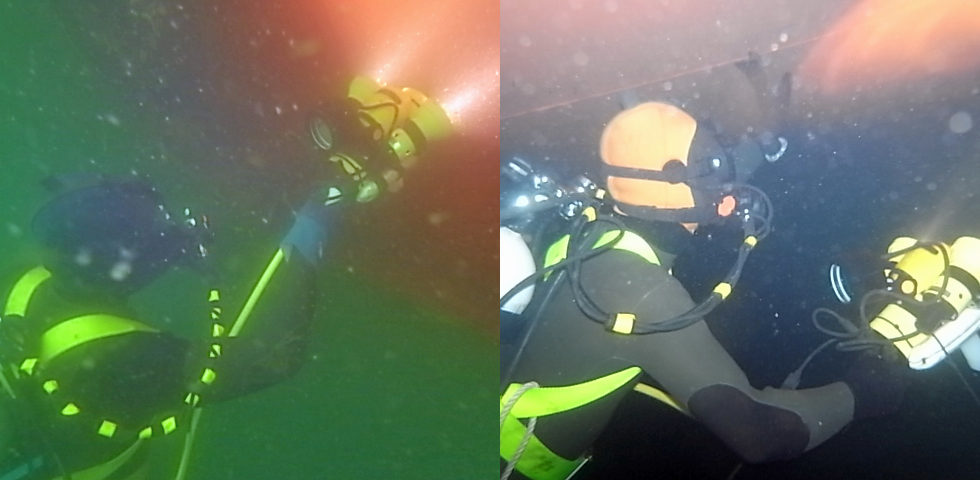 Underwater Cleaning
The fouling of the hull by marine growth increases the frictional resistance of the hull and causes the lowering of the ship speed and the deterioration of the fuel consumption rate. In addition, the fouling of the hull not only causes economic loss in operation, but also threatens the safety of navigation by causing operation in a dangerous operating area due to overload operation of the main engine. We has been researching the growth process and adhesion mechanism of marine growth and the characteristics of silicone paints and antifouling paints. Based on this research, we conduct underwater cleaning using own developed "AQUA SHAVER" (Large electrically driven cleaning machine) equipped with various special cleaning brushes. That makes us possible to conduct effective underwater cleaning and minimizes damage to the antifouling coating.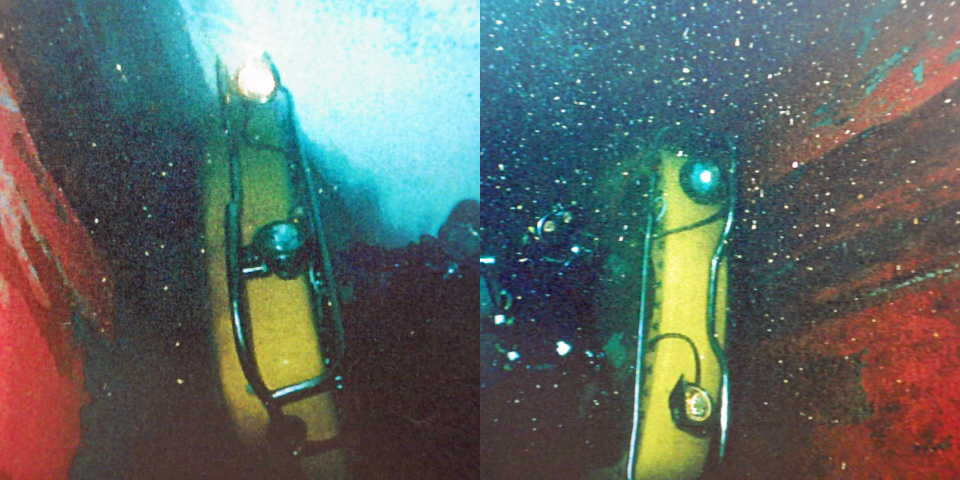 Propeller Polishing
We provides a propeller polishing service that can expect energy saving in ship operation. Underwater Propeller polishing is different from polishing on land because seawater acts as a lubricant. Therefore, unlike polishing on land, there are no metal surface cracks that occur during polishing, resulting in smoother surface roughness. Propeller polishing is finished in class A or class B (Top six classes A through F) grade of Rubert scale. It has been highly evaluated by many customers continuously for many years. Propeller polishing carried out simultaneously with underwater cleaning makes a positive effect in even more efficient energy savings.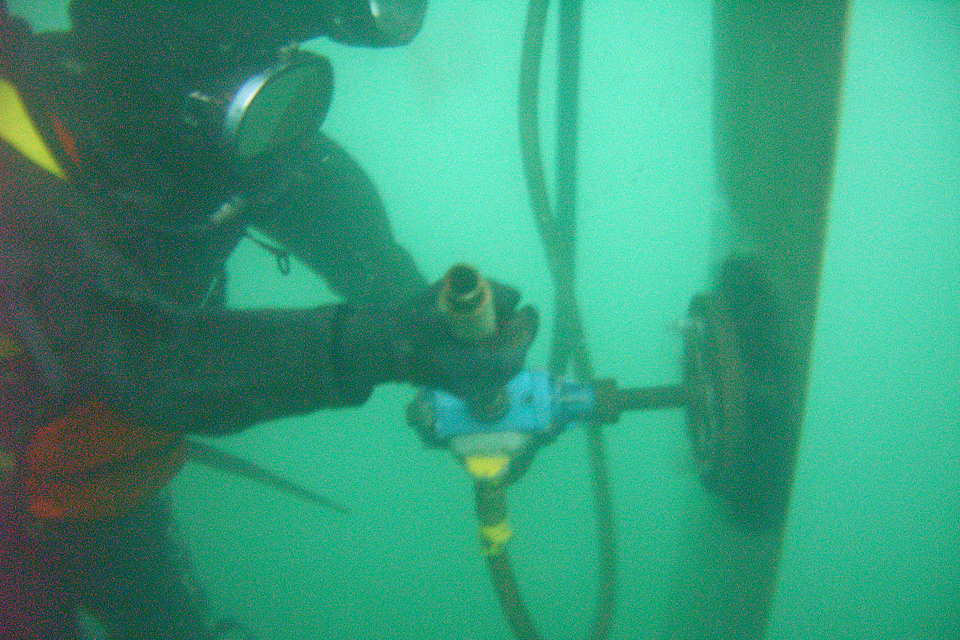 Damage Repairs
Damage to the underwater parts of ship mainly includes cracks or fractures as well as defects and bending of propeller blades.
Experienced divers who are familiar with the structure of various types of ships are able to quickly identify damages and advise the appropriate repair method to customers. After discussing with the ship owner, the ship management company, and the master of the ship, we will decide the repair plan and conduct quick and reliable repair work.

Other repair works are:
- Sealing work on overboard pipe in case replacement of the outboard valve.
- Removal of tangled fishing nets and ropes caught in thrusters, propellers, stern tube and rope guard.
- Installation / replacement of anticorrosive anode.
- Replacement of the sensor on the bottom such as Doppler Log.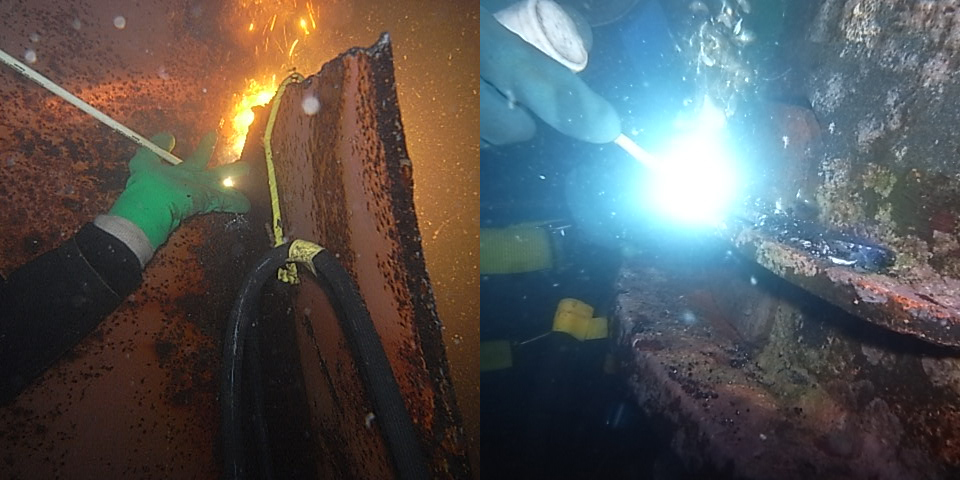 Marine Civil Engineering Works / Marine Port Works
In response to customer's request, we provide various types of underwater services in offshore civil engineering works and we have many achievements so far.
We also participate in the contract of public marine port work projects and provide construction services for many kinds of public works related to marine constructions and underwater constructions. *
* We have divers certified also as civil engineering management expert and Harbor diving expert.


Water control constructions for quay wall revetment, pier, bridge, water supply, sewerage, river, etc. / Installation of measuring instruments / Topographic survey / Installation of fishing reefs / Maintenance of offshore structures / Installation and removal of navigation light buoys / Dredging work / Stone-breaking work / Installation and dismantling of scaffolds / Formwork setting and concrete placement / Cable burial / Offshore excavation and anticorrosion construction / Search and salvage work for lost metal objects such as anchors and chains, and construction of accompanying simple magnetic exploration and towing magnetic exploration, etc.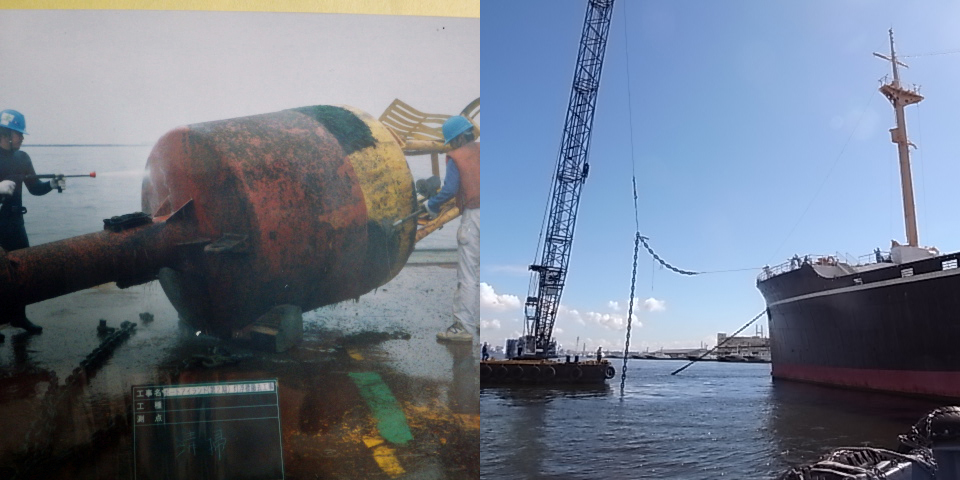 Business Inquiries
Diving Business Group
+81 44-548-9144
Inquiries