Support for Shipbuilding Projects
Regardless of whether a ship is renewed, newly built, or remodeled, we provide a consistent service on behalf of the customer, including the preparation of basic designs and drawings of various ships, examination of ship prices and construction schedules, support for shipyard selection, and construction supervision. In particular, through ODA provided by our country, we have a great track record in the ship procurement business for developing countries and the domestic ship construction business, and our expertise and services are highly evaluated.
For customers who plan to construct or remodel ships, we support to prepare conceptual designs and basic designs of ships by taking into consideration conditions such as transport needs, route planning, and port restrictions.
In the new shipbuilding plan, we propose a shipbuilding plan by examining performance, preparing specifications, drawing up various drawings, estimating the price of a ship, etc., and we also provide a consistent service from selection of shipyard to contract and construction supervision.
With regard to the ship construction projects funded by the Official Development Assistance of our country (ODA), we consult with the governments of developing countries and carry out field inspections. In addition, we provide support for ship building projects in developing countries, including various surveys based on JICA procedures, preparation of basic design documents, selection of shipyards, arrangements for construction supervision, delivery of ships to local sites, and technical cooperation.
We also provide consistent consulting services for construction and remodeling plans for working ships of local governments and public organizations in Japan according to budget and implementation year.
In addition, we can respond to the various needs of customers like private enterprise and respond to special purpose ships construction plans.
JAPAN MARINE SCIENCE INC. has many achievements in shipbuilding projects both in Japan and overseas, and has earned high marks for its expertise and services.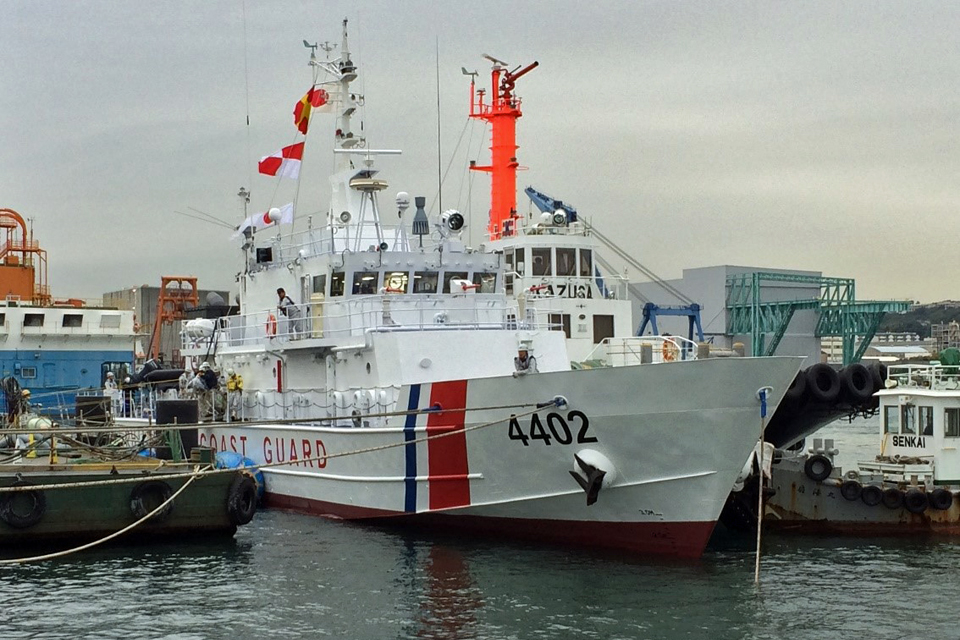 44 m multipurpose ship for the Philippine Coast Guard (PCG)
Consulting for the construction of new shipbuilding
For customers who plan the renewal, construction, or remodeling of ship, we will cooperate in the conceptual design of the required ship including the consideration of transportation needs, route plans, port restrictions, etc. After that, we will make a basic plan of the ship requested and various performance calculations, and prepare technical specifications and basic drawings such as general layout drawings. Based on the specifications, we draft business plans, such as cost estimation, project cost estimation, and preparing construction schedules.
If a decision is made to implement a shipbuilding or remodeling, we will prepare a tender documents for the selection of a qualified shipyard, a bid support, such as a bid evaluation, qualification examination and etc., and support contract negotiations. We also provide consistent services such as drawing approval after a construction contract, inspection during the manufacturing major equipment, and inspection meetings during the construction.
Shipbuilding projects in developing countries through ODA
In developing countries, people need various types of working ships, patrol boats, inland water/river ferries, etc. for transporting people and daily necessities. But at the same time, the ability to plan ships that meet the needs and the funds and facilities to build them are lacking. We support the preparation and implementation of ship building projects in developing countries in such cases.
If the project is selected as an ODA project for our country, we will conduct various feasibility study such as preparatory surveys and detailed designs as specialized consultants. At the time of ship construction, we support the selection of shipyards, supervise the construction, etc., as a consultant for organizations in developing countries.
Our company has provided a large number of ship through ODA to Southeast Asian countries such as the Philippines, Indonesia, and Thailand, as well as to the Middle East and African countries.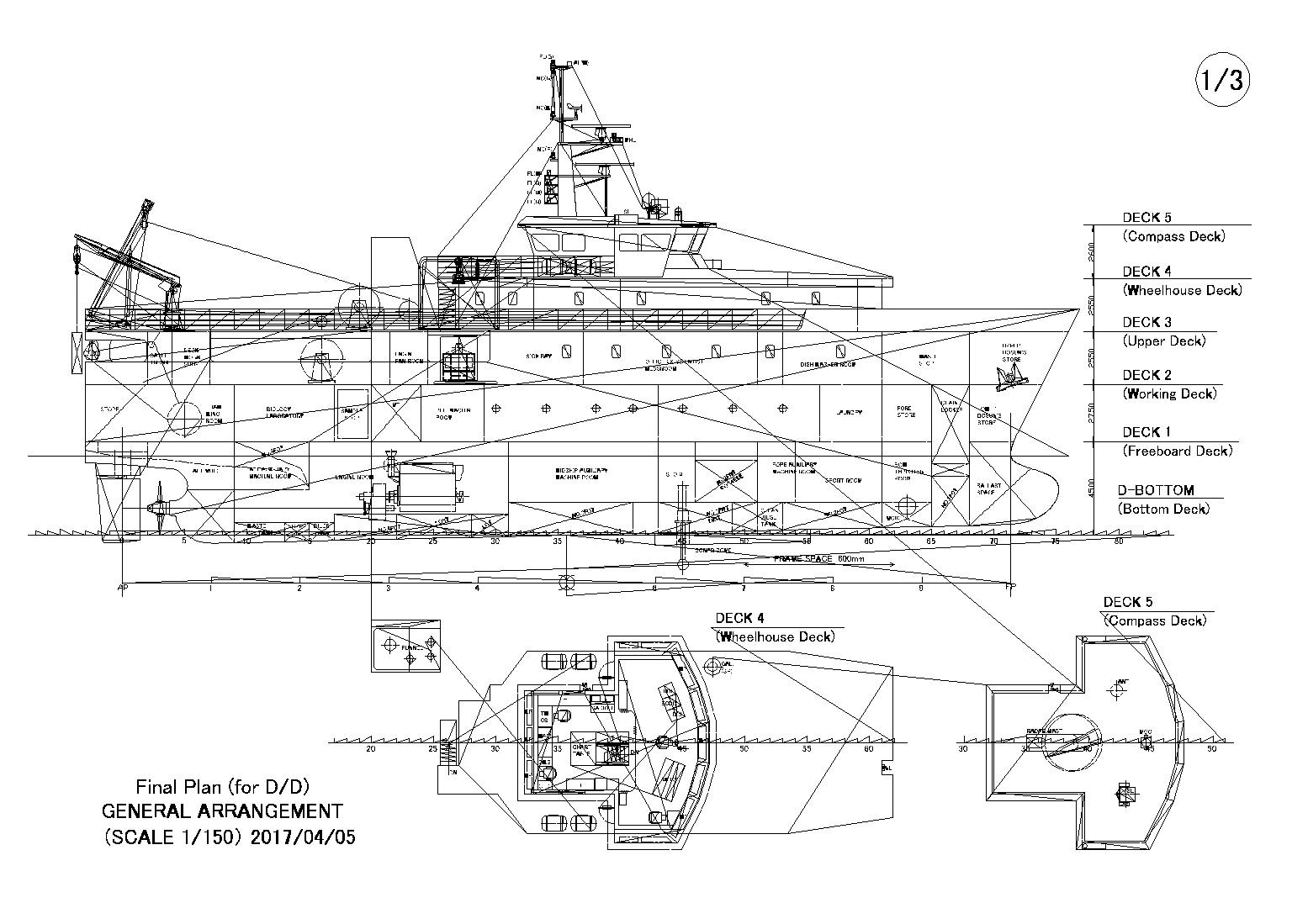 General Arrangement of marine fisheries research ship of Morocco
Ship building plans of domestic local governments and public organizations
There are various kinds of ship owned and operated by domestic local governments and public organizations include port work ship, fisheries patrol ship, patrol ship, oil skimming boat, fireboat, and passenger ship. In the renewal and construction of these vessels, we provide expert ship design engineers with the ability to study and prepare optimal ship specifications that meet customer requirements and regulatory requirements. In addition, in consideration of construction cost estimation and schedule, we carefully examine estimation and set appropriate construction cost and time.
In recent years, in order to meet various requirements such as "Maritime Labour Convention, 2006" (MLC treaty), "Stricter SOx emission regulations" and "Proper implementation of recycling and dismantling of ships", we are conducting various studies not only for new ships but also for remodeling.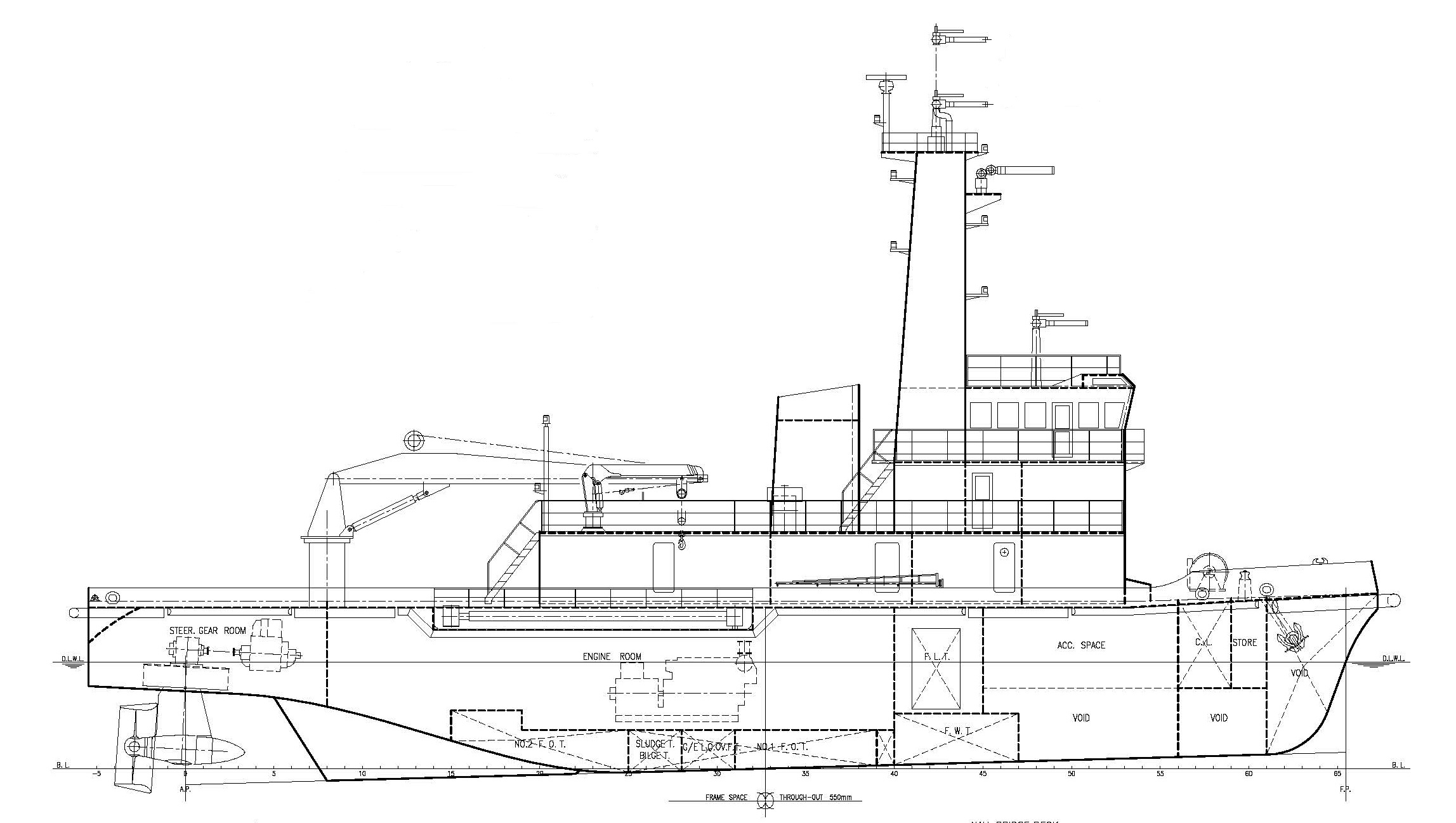 Ship Building Project with ODA (Moroccan marine fisheries research ship)
Shipbuilding plan of the private enterprise
In our company, in addition to the ODA projects of the Government of our country and the ship construction plans of domestic local governments and public organizations, we also provide support for the formulation and preparation of ship construction plans by private enterprise. From ferryboats to cargo ships and special purpose ships, we provide support in the planning of construction and the preparation of specifications that meet the needs of our customers, and we offer proposals so that our customers can get more concrete image of the ship even at the idea stage.
We also plan amphibious vehicles, design their exterior, and supervise their construction to support new business development from various angles.
For customers who are considering extending the life of existing ships, we can take necessary measures for the ship's hull, engines, and electrical parts based on the ship's condition diagnosis, or recommend replacement, and respond to requests such as remodeling.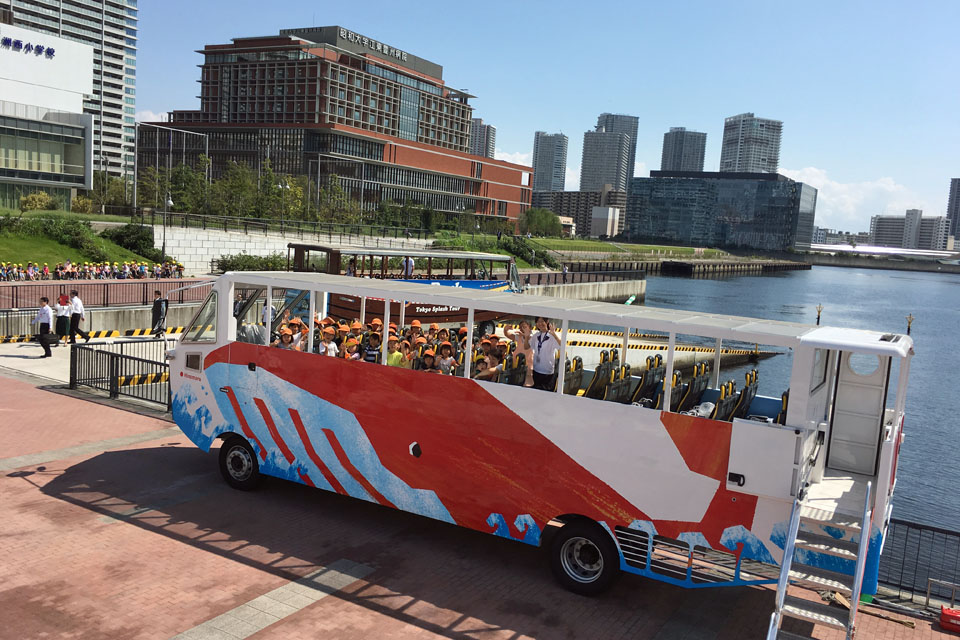 Amphibious vehicles manufactured by Hinomaru Jidousya Kougyo Co. Ltd,
Business Inquiries
Global Business Group
+81 44-548-9140
Inquiries