Ship Operation Consulting
The most important mission of a shipping company, i.e. shipowner, ship manager and ship charterer is to operate ships safely and efficiently.
The careless ship's operation and neglected ship management will be increased the large and serious risk of inefficient operation, marine accident, environmental destruction, or personal accidents such as injury and death.
In order to prevent such problems, our ship operation consulting division dispatches our staffs who has much sea experience on board with maritime knowledge, abundant know-how and job experience in marine transportation / industry and provides the following specialized technical services.
JAPAN MARINE SCIENCE INC. supports safe and efficient ship operations by dispatching experienced marine staffs and specialists for the various business of maritime operation / industory.
We are dispatching a lot of marine staffs with long sea experience and technical know-how suitable for each business, ranging from shipbuilding to cargo handling etc..
In cargo handling operations, we supervise cargo handling operations as a marine superintendent or a cargo supervisor or a berth master in accordance with the position of the customer (at a ship or at a terminal), and manage the operations while coordinating the cargo handling between the ship and the terminal so that cargo handling operations can proceed safely and efficiently. In addition, both short-term and long-term contracts will be conducted for dispatching a berth master.
In the shipbuilding business as well, we support the shipbuilding to dispatch technical superintendents for building / repair supervision and shipyard technical staff according to the customer's intention (Shipowner / Ship manager / Shipyard).
In all of our services, we have dispatched our marine / technical staffs with advanced expertise, and we have received favorable reviews / comments from our customers and repeated requests.
We will also respond to requests from our customers for maritime support in other businesses appropriately, so please kindly feel free to contact us if you need any marine support in the ship operations.
Dispatching of Marine Superintendent for Cargo Handling Operation
After we contract with shipowners and ship managers for supervising, we will dispatch marine experts with main sea experienced in cargo handling for the target ship type of ocean-going ship such as liquefied gas tankers, crude oil tankers, and bulk carriers on behalf of clients. As cargo handling supervisors, they will stand between the people concerned with the land terminal and the ship's crews and coordinate the cargo handling work to be carried out safely and smoothly. Even if the crew of the ship is foreign, JAPAN MARINE SCIENCE INC. dispatches a marine superintendent who is fluent in English,there is no problem in communicating with the Japanese people related to land terminals.
In the case if the unlikely event of an unforeseen problem happened during cargo handling, we will cooperate with the customer and work on behalf of the customer to prevent the problem from expanding.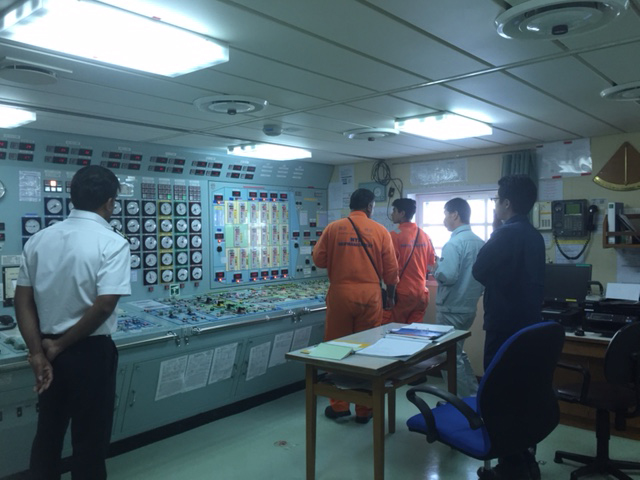 Dispatching of Technical Superintendent for Shipbuilding and Ship's Repair Docking
After we contract with shipowners and ship managers for supervising and commissioning for their ships, we, JAPAN MARINE SCIENCE INC., are dispatching marine experts with main sea experienced on board and repair docking with experienced in ship management of ocean-going ship such as liquefied gas tankers, crude oil tankers, bulk carriers, and container ships on behalf of clients.
By dispatching technical superintendent for shipbuilding and ship's repair (technical superintendent for engine, cargo, hull, paint and site technical manager) to shipbuilder and repair dockyards around the world, they will stand between the client and the shipyard / the manufacturer and supervise the ship's construction of all type of new ships, the repair work at the time of regular docking, and emergency docking in case of a marine accident.
We will appropriately respond to various requests from customers such as check & making of dock indent / specifications, preparation for inspection / survey, process management, quality / safety management, cost management / reduction, emergency response, and negotiation with shipyard and manufacturers.
Business Inquiries
Dispatch of Safety Superintendent and Berth Master: Marine Technical Group
+81 44-548-9143
Inquiries
Dispatch of engineers and supervisors for repair and construction, etc.: Marine Personnel Group Human Resource Support Team
+81 44-548-9138
Inquiries
Construction and repair of ships: New Buildings Group
+81 44-548-9135
Inquiries