ECDIS Simulator
ECDIS simulator is used at the University of Mercantile Marine, Merchant Marine College, and corporate training centers, and is a system that reproduces a navigation environment similar to the actual environment so that trainee can learn the operation of ECDIS. It supports multiple models of each navigation instrument manufacturer and can automatically generate and transmit the signals required for ECDIS training in real time.
Simulator can be designed not only for Generic training which is required by STCW(*1), but also for Type Specific training which is used for familiarization of operation method for various types of ECDIS(*2) produced by each ECDIS manufacturer.
We can create various training scenarios to suit your needs. In addition, it is possible to generate navigation signals in real time from the own ship and other nearby ships in the simulated sea area.
These systems consist of Instructor station and Trainee station, can offer the effective training environment by realistic navigational situation. (*3)
By utilizing the know-how cultivated in the ship-handling simulator, it is possible to reproduce a realistic navigation environment linked to a precise ship motion model and 3D images, and it is possible to provide tailor-made according to the customer's budget and purpose.
We are also able to provide total support from creating training curriculum to issuing Completion Certificate based on the requirement from customer. Please feel free to contact us.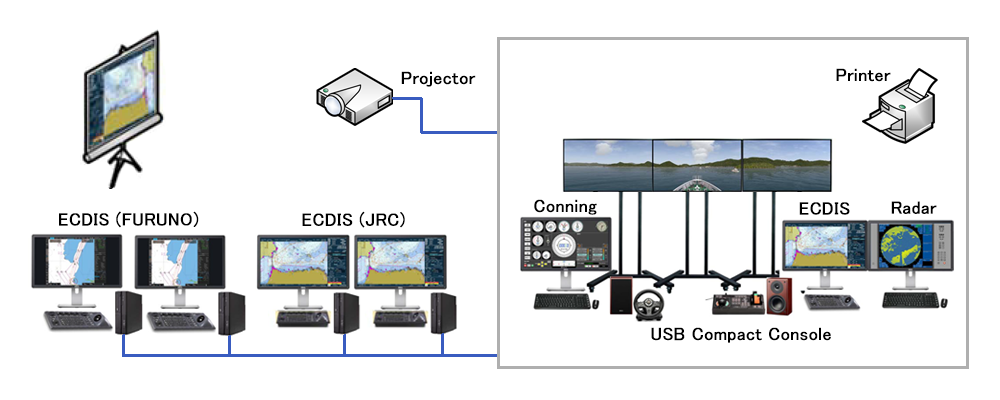 *1: International Convention on Standards of Training, Certification and Watchkeeping for seafarers
*2: Below ECDIS are compatible with our system:
JRC(901B/JAN-9201)
FURUNO(FEA2801/FMD3300)
TOKYO KEIKI(ECT-80-B)
TRANSAS(Navi-Sailor 4000)
*3: The environment consists of Instructor station and Trainee station (up to 5 Trainee stations for 1 Instructor station), and traffic data of 'Tokyo-bay', 'Ise-bay', 'Osaka-bay', 'Kanmon-strait', and 'Singapore-strait' are pre-installed as training area data.
Main features
Own ship model (response model), other ship model (WayPoint model (*1))
Maneuvering with rudder and engine telegraph
Own ship maneuvering mode (HAND/AUTO/TCS(*2))
Creation of traffic data for other ships
Offset (error value) setting (GPS, GYRO, LOG)
Simulated malfunction (GPS, LOG, GYRO, AIS)
NAVTEX message (supporting user's any character input)
Generation of various simulated signals (GPS, LOG, GYRO, AIS, NAVTEX, TCS(*2), radar echo, etc.)
*1: A model originally developed by JAPAN MARINE SCIENCE INC., which sails along a preset speed and route.
*2: The Track Control System is a system that allows the Vessel to navigate along the planned route set on ECDIS.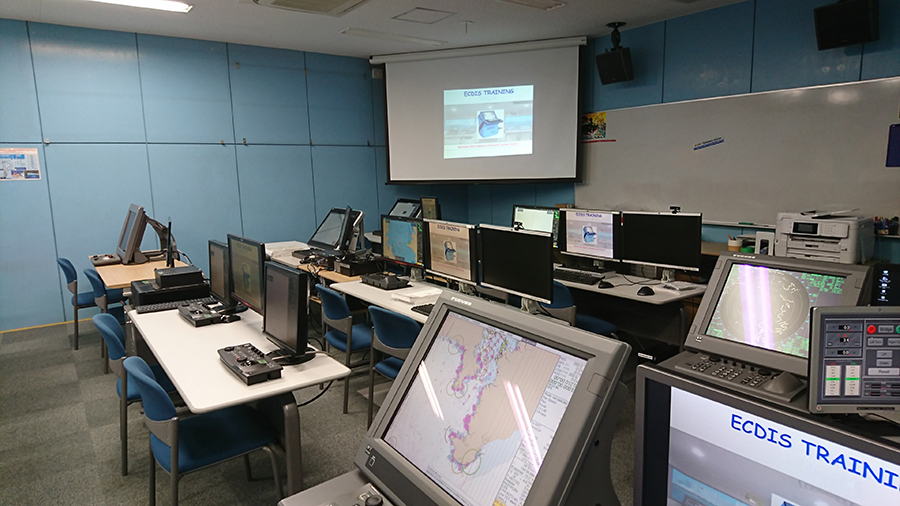 Business Inquiries
Technical Development Group
+81 44-548-9133
Inquiries