Measurement Survey
Accurate understanding of the situation in the field is the basis of consulting. JMS will make use of its abundant practical experiences and advanced technological capabilities to conduct a variety of surveys on ship traffic, ship maneuvering, and ship motions.
The obtained data will be used as basic data for the maneuvering simulator and various simulations.
JMS provides services such as "marine traffic survey" and "ship motion measurement".
Marine traffic survey collects vessel movement tracks combining company-owned radar system and AIS data. In order to include small vessels and crafts which have difficulty in identifying by AIS and collect precise shipping data, JMS can also carry out visual observations by maritime experts. JMS provides assessments of sea route conditions of the area concerned based on the collected and tracked information organized by parameters such as congested time periods, ship types and ship sizes.
Mooring rope partings due to long-period waves and excessive ship motions during cargo handling threaten safety mooring at berth and reduce cargo handling efficiency. Ship motion measurement is carried out by a measurement device set up on the ship, and the cause of the concerned motions are analyzed. Improvement plans of mooring measures examined by mooring motion simulation are also proposed to reduce mooring movements.
Marine traffic survey
It is important to understand the current conditions of marine traffic environments for the formulation of the Port Plans, designing fairways and planning marine construction projects such as bridges and offshore airports.
It is possible to comprehend the current circumstances of area use and congestion, and predict the traffic conditions after the implementation of the plans by executing various simulations based on the conducted marine traffic surveys. Surveys are conducted using company-owned radar system combined with AIS information and execute with our analysis system, and for ships that cannot be identified by AIS, highly accurate data is provided through visual observations by specialized marine technicians. JMS has extensive experience, more than 250 surveys over the past 30 years, including major national projects such as Honshu-Shikoku Bridge Construction Project and major offshore airports (Kansai, Chubu, Haneda, and Kobe). JMS is also capable of conducting overseas surveys.
Examples of the survey contents
Track information, traffic density, Distribution of track positions, navigation speed
Number of ships passing the target areas and sea routes collected by ship type, ship size and time period
Locating the positions of anchoring ships and the operation areas of fishing ships, and tracking pleasure boats
Others
Depending on the purpose of the research and the budget, JMS can propose the most appropriate methods such as setting of survey area, focusing points and analysis items.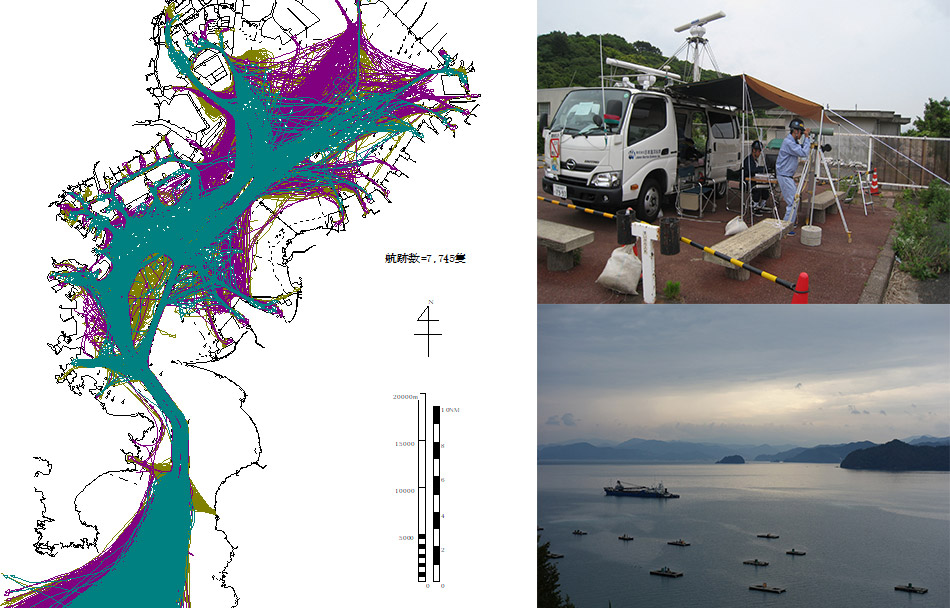 Example of actual conditions survey of ship navigation in Tokyo Bay: track chart
Ship motion measurement
Mooring even under apparently calm weather conditions, there are many troubles due to ship motions such as parting of mooring ropes considered to be caused by long-period waves (wave period of 30 to 300 seconds) and stopping cargo handling operations under normal wave conditions. Excessive ship motions during cargo handling threaten safety mooring at berth and reduce cargo handling efficiency.
In order to grasp the actual condition of ship motions during mooring, MS measure ship motions such as sway, surge, heave, roll, pitch, and yaw, and if necessary, waves using a high-precision GPS sensor and analysis system, analyze the causes of the motions from the measurement results, and propose mooring enhancement measures. The improvement effect can also be verified by mooring motion simulation.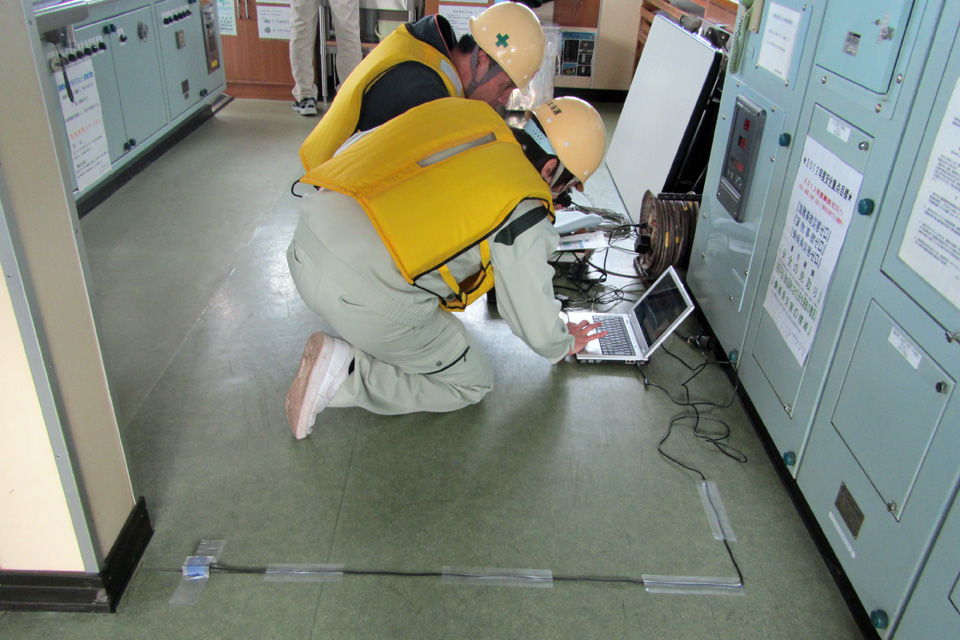 AIS Data Analysis
AIS (Automatic Identification System) data analysis is mainly used to grasp the actual marine traffic patterns. In recent years, the number of ships equipped with AIS has increased due to the mandatory installation of AIS equipment. This has made it possible to conduct long-term surveys and grasp the actual conditions in a wide range of water areas, including bays and coastal waters. JMS has extensive experience in Tokyo Bay, Ise Bay, Osaka Bay, the Japanese coast, and overseas ports. However, since AIS does not include small ships such as fishing boats, we propose conducting traffic surveys combined with radar systems to grasp the actual conditions of marine use for the purpose of reclamation and marine construction.
In addition, by analyzing the AIS data of individual ships, we can analyze maneuvering at specific situations such as berthing and unberthing of the ships.
JMS proposes the most appropriate methods to meet the customer's needs, such as the purpose, the scope and the period of the survey.

Business Inquiries
Research & Consulting Group
+81 44-548-9131
Inquiries